Y-Age Glutathione Patches
Improves skin's appearance
Helps promote relaxazation and reduces stress
A general state of health is your greatest defense
No drugs, chemicals or stimulants
Patented proprietary form of phototherapy
Convenient & easy to use
Elevate your well-being with Y-Age Glutathione Patches - your path to fortified wellness and diminished stress. Because a harmonious state of health is your greatest defense.
Intended for human use only.
FACTS about Glutathione and its benefits in a wellness program:
Glutathione is a material that is found naturally in the human body
As we age our bodies levels of Glutathione start to decline, necessitating the need for supplementation.
Glutathione is the master antioxidant and plays and important role in our overall health
As we age our body may accumulate toxins; Glutathione protects the body from many toxins we come into contact with every day
As we age we are subjected to numerous heavy metals, in the food we eat and the air we breathe; Glutathione is known to rid the body of heavy metals such as Mercury
When we exercise our body uses up its stores of antioxidants; Glutathione is known to improve athletic performance and to help us keep going longer
As we age our immune system becomes weaker; Glutathione can keep the immune system functioning at its peak.
LifeWave Human Products
If you were not given a Promo Code by a Distributor please enter GETPATCHED as your Promo Code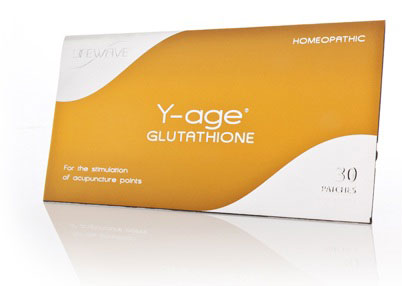 There are other Glutathione supplements on the market, but clinical research shows that common Glutathione pills, powders and drinks can only elevate blood Glutathione levels by little more than 10% in 30 days.
A LifeWave research study was performed in 2006 to independently examine the effects of the Y-Age Glutathione patch on blood glutathione levels over a period of five days. After 24 hours of patch use, average blood glutathione levels rose by more than 300 percent over baseline. Not only that, but by the end of the five-day study period, they also stayed at that elevated level.
Multiple studies have confirmed that the LifeWave Y-Age Glutathione patch increases blood glutathione levels in a safe and natural way!
Blood Glutathione levels have been identified as being on of the most important indicators of our overall health. As the master antioxidant in the body Glutathione has a range of divers metabolic functions including acting as a free radical scavenger, "recharging" depleted antioxidants back into their active state (Vitamin C, Vitamin E, Vitamin A, etc.), maintaining the immune system, supporting protein structures and removing heavy metals such as mercury through the liver.
Present methods that attempt to elevate Glutathione levels are not very effective. Oral supplements of Glutathione are destroyed by stomach acids. Glutathione is a tri-peptide composed of three amino acids and adding these amino acids to the diet does not guarantee elevated levels of Glutathione. Injections of Glutathione does translate into elevated levels of Glutathione in the blood however this method is undesirable on a daily basis, is expensive and inconvenient.
The LifeWave Y-Age Glutathione patch is a new way to increase Glutathione levels in the body. Our patch technology makes elevating Glutathione levels convenient, effective and safe.
The LifeWave patches are intended for healthy adults, age eighteen and over. The guidelines on this website are solely for educational and informational purposes. This information is in no way intended to be medical advice. Please consult a medical or health professional before you begin any new diet, exercise or nutrition program, or if you have any questions or concerns about your health. Individuals that are quoted on this website have experienced results that may not be typical results and as such their results will not be the same as your individual results. LifeWave does not assume any responsibility for your use of information on this website. LifeWave patches are not intended to be used in the cure, treatment or prevention of disease in man or animals.